When volunteers from Prentiss Smith & Company set out for the Whetstone Brook on Saturday, September 25th, we knew we were taking part in an impressive annual cleanup that encompasses four states and one of the largest watersheds in the Northeastern United States. The Connecticut River Conservancy was celebrating the 25th anniversary of its Source-to-Sea Cleanup, and along with sponsoring the event, Prentiss Smith & Company had decided to organize our own cleanup group to participate (as reported by the Brattleboro Reformer). What we didn't know was just how deeply our participation would impact the way we thought about social justice issues, our community, and our watersheds—and how intricately these are connected.
We chose the Whetstone Brook because it had been flagged as an "adoptable site" by the Conservancy. When we arrived and clambered down the embankment by the Elm Street Bridge, we saw why. The remains of a large homeless encampment, strewn through the woods above the water, were so extensive that employee volunteers like Penny Kaufman described being "blown away by the scale of it." With a team of just under a dozen, Vanessa Redfield, another employee volunteer, aptly summarized the group's initial reaction: "how are we ever going to get this cleaned up?"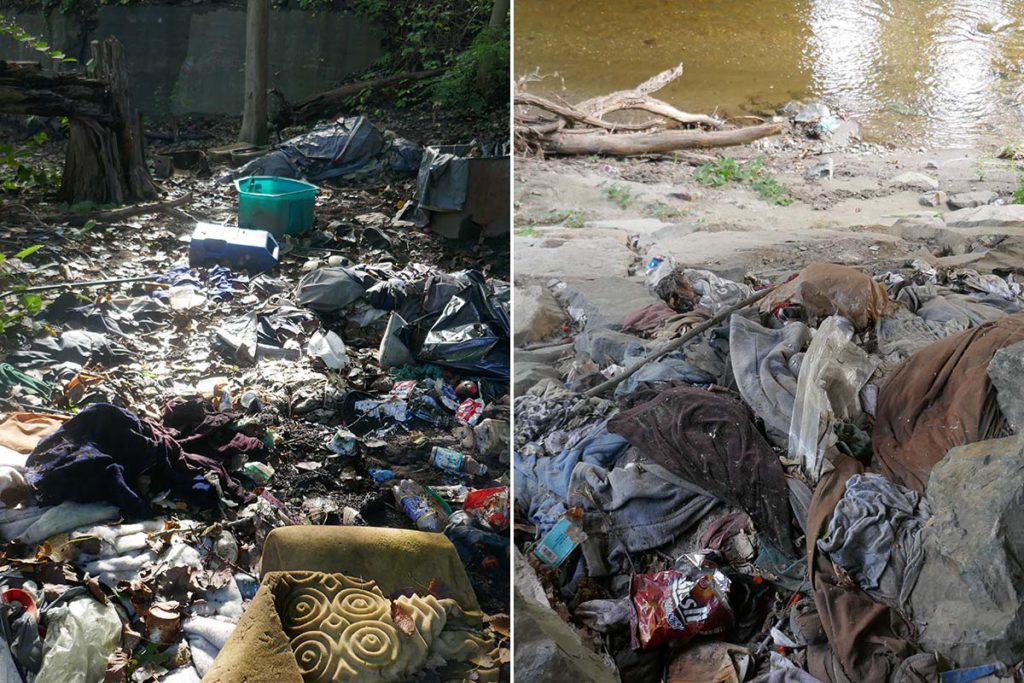 Four hours later, the group had removed nearly 1,500 pounds of trash in 65 heavy-duty bags. "We all just put our heads down and started," said Redfield. "Everyone was a worker." Plastic bottles and bags, food containers, wrappers and utensils were some of the most common finds, with totals of each in the hundreds. As Kaufman pointed out, "heavy rains would have washed those items right into the brook, a big problem for the environment." The positive impact of removing so much trash from local waterways, where it would have affected river health and ultimately added to the growing crisis of microplastics in our environment and our oceans, was undeniable.
But participants experienced other impacts that felt equally profound. A high volume of used needles provided a recurring warning about the struggles with drug abuse to which many of our neighbors succumb. Tents and other structural elements, along with mattresses, clothing, and cooking equipment, were an even more acute reminder that, as Redfield put it, "to be home challenged and not have a place to keep your things means you either have to carry them with you or leave them. For folks to be in that situation, it seems so scary, so filled with fear and the unknown." Employee volunteer Karlie Borst became emotional when she shared that for her, "the most distressing thing was the kids stuff, finding teddy bears and toddler books. It was the evidence of children living in that environment." While those we spoke with unanimously reported feeling energized by the work that had been done done, many were also sobered by this intimate encounter with the tragedy of living without a home.
As a firm, some steps we've taken to try to help address such issues in our community are through philanthropy and sponsorships. To help those already in need who were further affected by the pandemic, last winter we made a large donation to Everyone Eats, a program that buys and and distributes to-go meals from local restaurants to those in need. Our sponsorship of the Retreat Farm also helps support their Food Project, which offers free and affordable food to any member of the community, without strings attached (the Retreat Farm also supplies produce to the Community Food Project, the VT Food Bank and others). More volunteer days are also planned, and some of our employees are making their own plans to mobilize as well.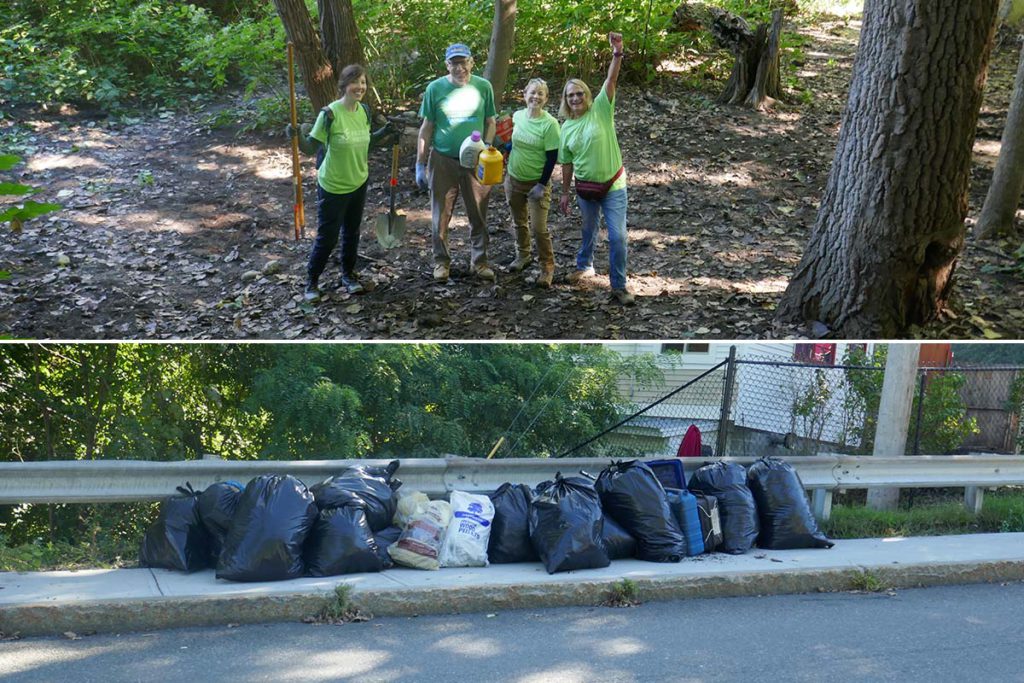 Addressing the environmental and social challenges we encountered during the cleanup will require effort from across our community and society at large. Humanity must move beyond single-use plastics; better governmental support is needed to move beyond the opioid crisis; more funding for low-income and transitional housing programs can help ensure that even those struggling acutely will have a place to come home to while they seek a better life. Practically, we applaud the news that the Everyone Eats program has been extended through the end of the year with FEMA funding, and we encourage Vermont's hotel voucher program, recently extended through October 22, to also accept FEMA funding so it can run through the end of the year, or until transitional or permanent housing can be provided for all participants.
Finally, we encourage others to join events like the Source to Sea Cleanup. Like so many others who volunteer, on September 25th we not only rediscovered the impact we can have on our community, but we enjoyed the arguably even greater benefits volunteering confers on us. The more people experience these benefits, the closer we get to a virtuous cycle, where neighbors proactively take responsibility for our community, bridge the divides between us, and are ultimately spurred on to even more awareness and action.